Helping your school community get organized
Are you looking for a way to keep everyone in your school community informed about important dates, activities, procedures and more? Would a comprehensive source of information about all aspects of school life save school staff time answering the same questions?
The Elementary School Calendar Handbook is a unique 40-page, 12-month calendar and handbook that provides a day-by-day listing of all important activities at your school. It has space for a detailed overview of important information about how the school operates.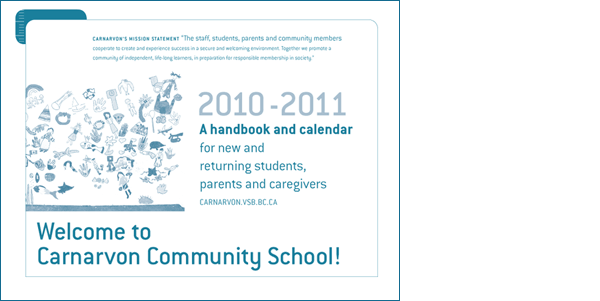 Your calendar comes with articles on a variety of topics relevant to elementary school children. You can edit and revise these, write your own articles, or submit your own drawings or photos.
The calendar:
• provides a readily accessible reference for busy families.
• answers Frequently Asked Questions for parents, children and staff
• can be used as an in-the-classroom reminder for students and teachers
• encourages family discussion and co-ordination of activities…no surprises!
• can be used as a P.A.C. fundraiser
• an additional PDF version allows the calendar to be posted on your school's website
Download a PDF sample and check it out.
Design and production costs range from $400 to $500. Printing costs from the Vancouver School Board Print Shop are estimated at 500 calendars for $480. 1,000 calendars will cost $960. Taxes are not included.
Schools may choose to give away the calendars to each family or may use them as a fundraising tool for the school P.A.C.
Working Design developed this calendar when owner Kris Klaasen was an active PAC member at Kitsilano's Carnarvon Community School in 2000. He identified the need for a quick reference for school information and proposed that the PAC spearhead the development of a school handbook. With the help of other parent volunteers and the support of the school's administration, the booklet was produced and enthusiastically received by parents and teachers.
In 2005 principal Greg Barnes asked Working Design to adapt the book into a calendar format. The calendar retained the handbook content while presenting the monthly grids for day-by-day information about scheduled activities. The calendar is a popular item and is in use at both Carnarvon and Britannia schools.